Tips and additional resources for SF3 filmmakers
These days you don't need expensive cameras and huge budgets to make a great film. You don't even need big crews, special effects or lots of time. All you need is your smartphone and/or tablet, a great idea and away you go.
Smartphones and tablets are equipped with high-quality cameras and recording equipment and its time we utilise these to create beautiful and professional quality films, and that's what we here at SF3 are all about.
Which camera to use? You ask…well that's simple. We recommend the phone and/or tablet that you already own.
We cannot recommend the Pocket Film Academy enough. Do yourself a favour and get on this site now. Jason van Genderen is the master and he shares all his secrets and tips with you. You may just win SF3 with his help, past Top Ten filmmakers have! 
Another site we are loving right now is Photography Talk. They have just created a "Shoot Like A Pro" Guide, and even though it is focused on mobile photography, we guarantee you will get a lot out of it and will be starting to make films like a pro in no time.
Here are some tips to help make your SF3 films mind-blowingly amazing and ready to enter into our festival.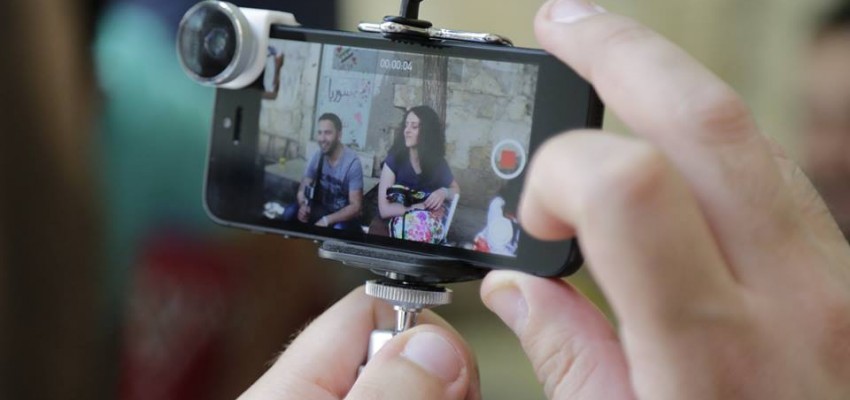 Photo courtesy of our partners at the Syria Mobile Film Festival.
Tip #1 – Shot Orientation
Make sure that you are shooting in the correct orientation. A lot of people will shoot automatically in portrait mode but remember that because we usually watch films in widescreen or horizontal format on TVs, computers, tablets and phones we want to shoot in landscape mode. So hold your device on its side.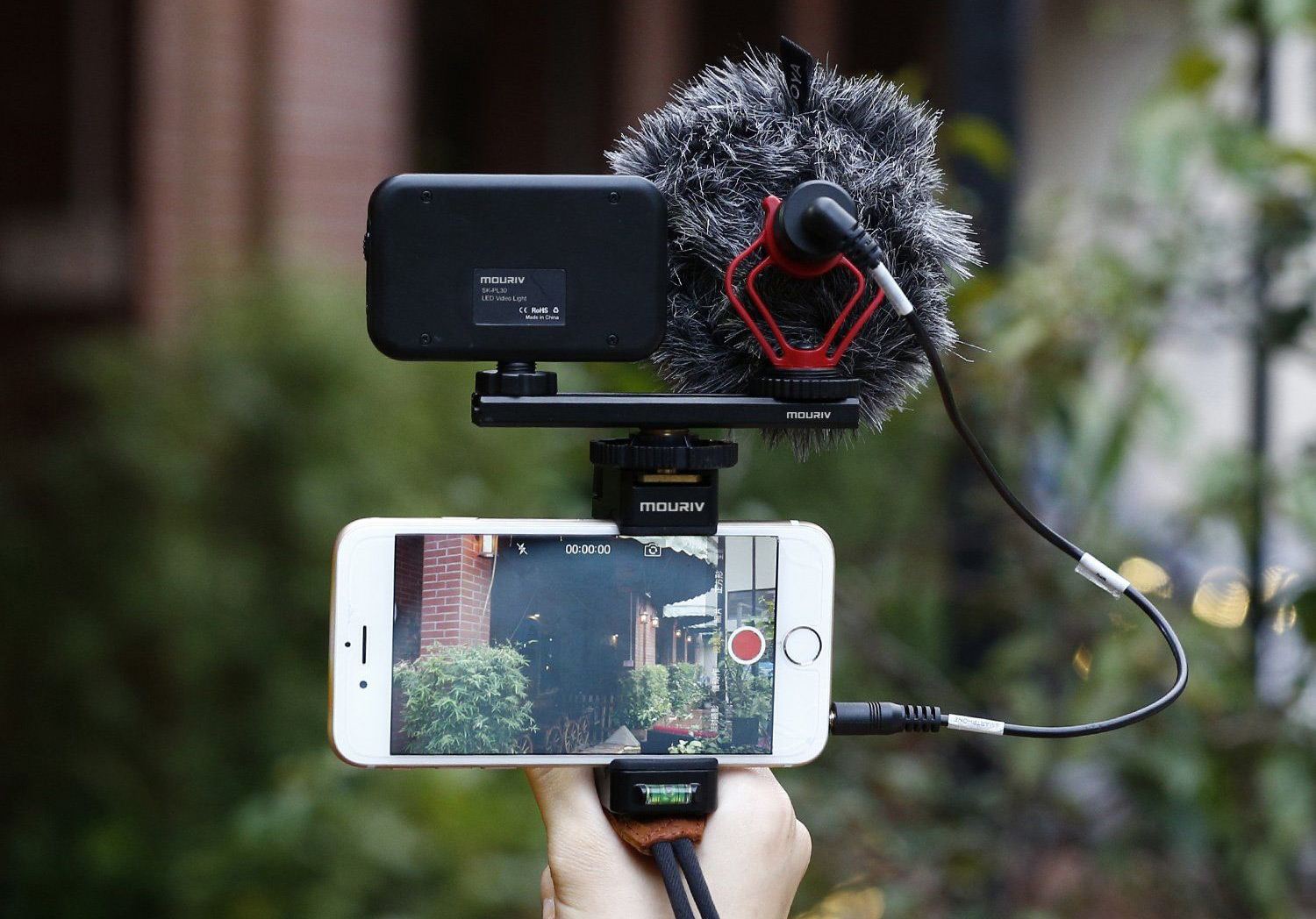 Tip #2 – Sound
Good sound is absolutely key to creating a professional film. There is a wide array of external microphones available for smartphones and tablets, and by shopping around on ebay and the Internet you will find that many of these are very affordable. The difference these microphones will make to your film is incredible. However, if you choose to use the internal microphone of your device, stand as close to the phone/tablet as you can to eliminate background noise.
Soundtracks and voiceovers are also great additions to any film, just make sure you have the rights to any music used in your SF3 film.
Check out the awesome Olloclip Studio system
Tip #3 – Lighting
The phone camera does not see the subtle light gradations like the human eye does so its better not to shoot in areas of high contrast. The best advice for lighting is to keep it simple, and if possible shoot on cloudy days or in areas of shade. Too much light will overwhelm the camera, underexposing the shot, so try to shoot focusing on the subject and from an elevated vantage point.
When shooting indoors, use soft lighting where possible and make sure you have adequate lighting, as the cameras on phones and tablets generally perform poorly in low light. If you don't have professional lighting equipment, make sure you are getting enough light from windows, lamps and ceiling/wall lights.
Cameras also adjust automatically to compensate for the colour or temperature of a light source. So, if you still do not get quite the effect you were after, you can use colour grading software and apps to touch things up and make subtle changes in your post-production.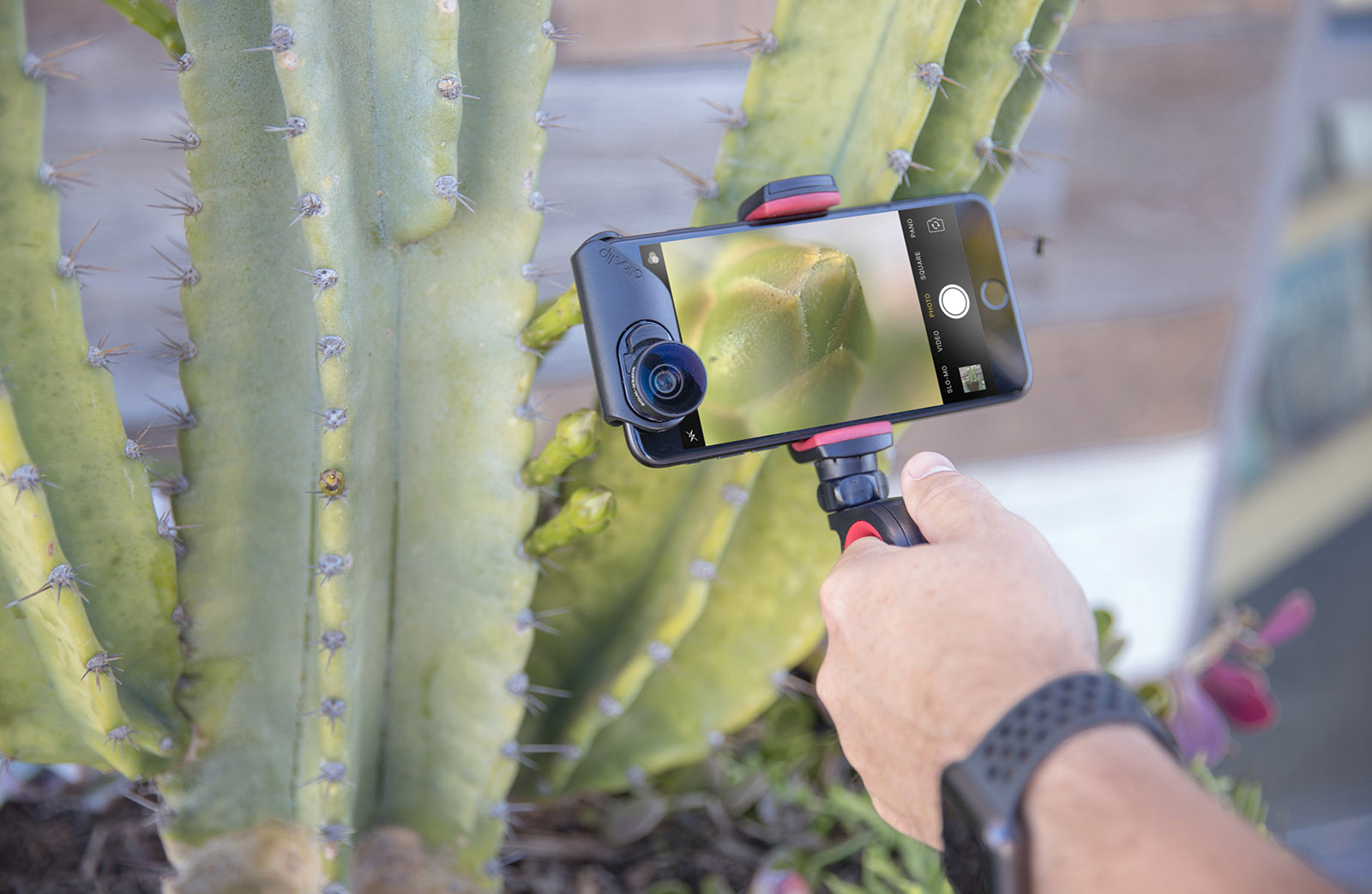 Tip #4 – Zoom
Smartphones and tablets are not equipped with great zooming capabilities, so avoid using the zoom if possible. Digital zoom destroys quality by stretching pixels. Instead, physically move the device closer to the subject.
You can also invest in macro and micro lenses which you can find on eBay for as low as $20. We highly recommend these. They are simple to use, attaching magnetically to your device, and will make the world of difference to your films.
Tip #5 – A few extras make all the difference
Nothing will ruin the look of your film more than un-intentioned camera shake. Handheld shooting is cheap and easy, so if you are shooting in this way remember to bend your elbows in to your body and hold the device with both hands. This steadies the camera and will eliminate the camera shake that often happens when the device is held out in front with straight arms.
However, if you have a few dollars to invest, we do recommend you buy a tripod. They can be found cheaply on the net and will instantly make your shots that little bit slicker. You will need to make sure you get a smartphone or tablet mount that will easily clip your device onto the tripod.
There are also a wide array of other extras you can add to your 'kit' such as steadycam attachments, light sets and rails systems for panning shots.
If budget is a concern, here is a link to a site that helps you to build your own smartphone extras.
Feel free to get as creative as you can, for eg. You can put your phone on a skateboard for a steady pan shot. There are many unique ways to shoot for free using your device, so don't worry if you have a zero dollar budget, just get inventive.
Tip #6 – Framing and Composition
Where do you want the audience's focus? Use interesting ways to frame each shot, guiding the audience's attention to where you want it to be. You can do this with camera focus, the use of scenery and shapes, props and lighting effects.
The big rule here is — don't always go for the obvious shot. Play around with the composition and don't always place your subject in the middle of the shot.
Tip #7 – Editing
These days an expensive editing suite is totally unnecessary for cutting together professional films. There are literally hundreds of apps for phones and tablets that will help you to edit your creations on the go. They vary in price and quality so check them out in the app store. As we find new and better apps we will be putting them up here for you to see.
SF3 also allows you to edit your films using any software you like, not just on your phones or tablets. So if you are comfortable using software such as FinalCutPro, iMovie, Windows Live Movie Maker or Adobe Premiere, then feel free to utilize these amazing professional programs.
Tip #8 – Apps
There are soo many apps, new ones seem to come out every day. Here are some of our favourites:
Power Productions' Story Board Quick & Story Board Direct – hands down the best storyboarding apps and software you can find
Final Draft – amazing screenwriting apps and software
iMovie – makes editing easy
Filmic Pro – turn your ophone into a pro camera
Audio Fix – fix your sound in post
8mm – turn your phone into 8 different vintage cameras
Films we recommend for further tips
Here are some films we think are very useful to our SF3 filmmakers. Keep watching the site here as we will be adding more videos as we find them. Good luck!
Iphone & Ipad Shooting for Absolute Beginners
Support SF3
We are currently seeking fun and innovative brands to join us for the next festival and beyond.
Let's
chat
Get in touch through our form or email us at sf3@sf3.com.au and we'll get back to you as soon as possible.