SF3 aka the SmartFone Flick Fest is one of the world's biggest and most prestigious smartphone film festivals. We are an international festival open to filmmakers of all ages from every corner of the world – all you need is a great idea and a phone or tablet.
SF3 provides a platform for budding, emerging and professional filmmakers to bring their ideas to life and have their films seen by a global audience, without the need for lots of fancy equipment or a big budget.The democratisation of filmmaking is here!
Alongside the festival, SF3 is also a world leader in the smartphone education space. We teach smartphone filmmaking workshops throughout the year both live and via Zoom. Our workshops cater to all ages – our youngest student to date is 5 years old and our oldest in their 70s. We teach for NIDA, the Actors Centre Australia, WIFT NSW, many local Australian councils and arts centres, across both metro and regional Australia, in Nigeria, Kenya, Uganda, Jamaica and across America, Europe and Asia.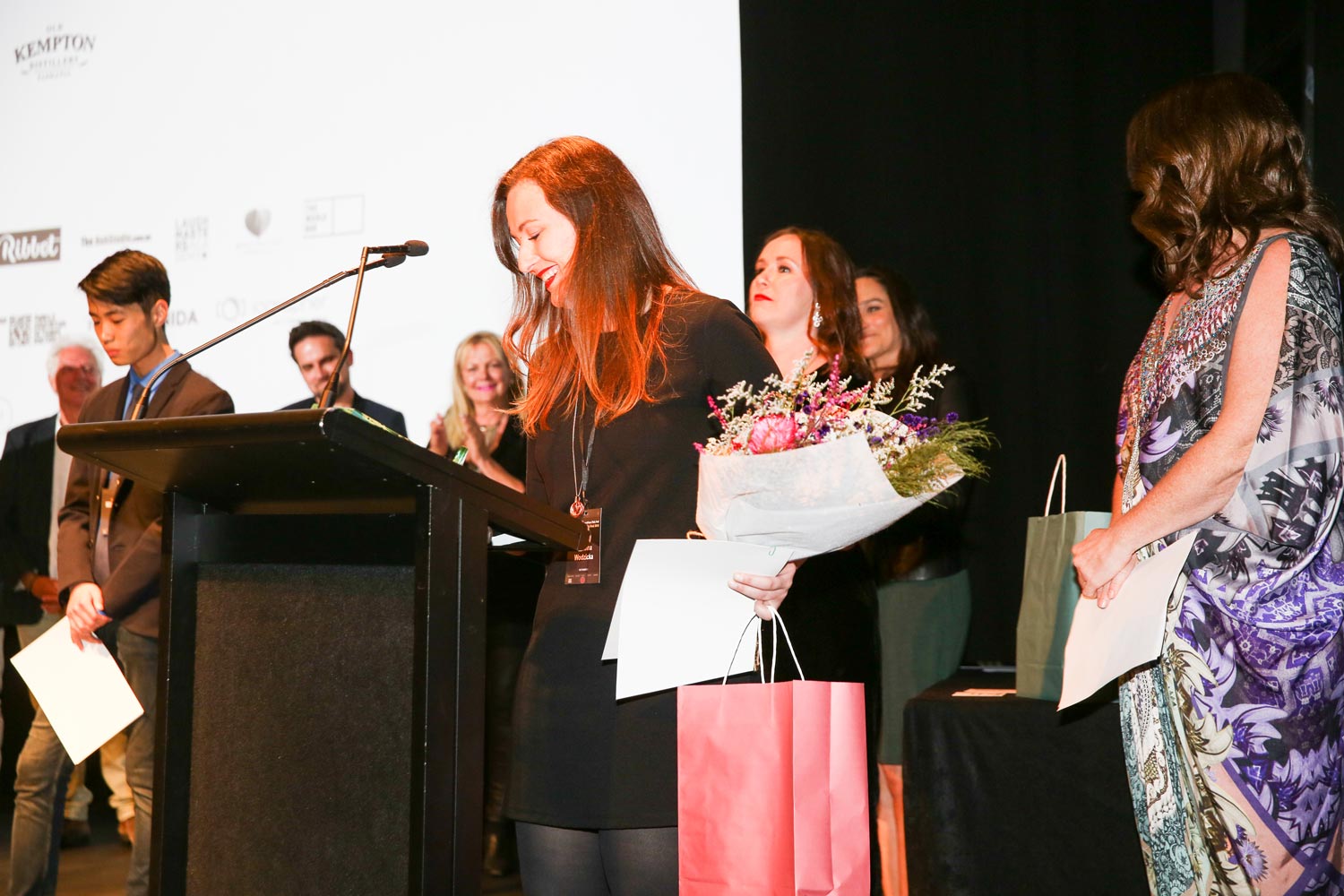 How SF3 works
From all eligible entries, finalist films will be selected to screen in the 9th annual SF3 Festival held live in Sydney, Australia and also at SF3 Online in November 2023. Our Gala Finals is a red carpet VIP night, where our esteemed judging panel will award our SF3 prizes to the winners of each category, and the winning filmmakers, creatives and actors will take home prize packs worth in excess of $50,000.
We have 35 Awards across our 5 categories and the prizes are divided across these awards. 
For our People's Choice Award, our Official Selection films will be available online (behind a pay-wall) and the general public and Gala audience are invited to vote for their favourite. The votes will be tallied and the film with the most votes/likes, will be awarded our People's Choice Award which will be presented two weeks after our Gala Awards event.
Our SF360 is screened as part of our Gala Finals but due to Covid for the past two years our finalist 360 and VR films have been screened online.
Our SF3 Mini Finalists will screen both live and online at a red-carpet screening in conjunction with one of our SF3 Feature Film Finalists. This screening will be followed by an awards ceremony where we award 6 prizes in our Mini category: 3 to Australian Mini films and 3 to International Mini films.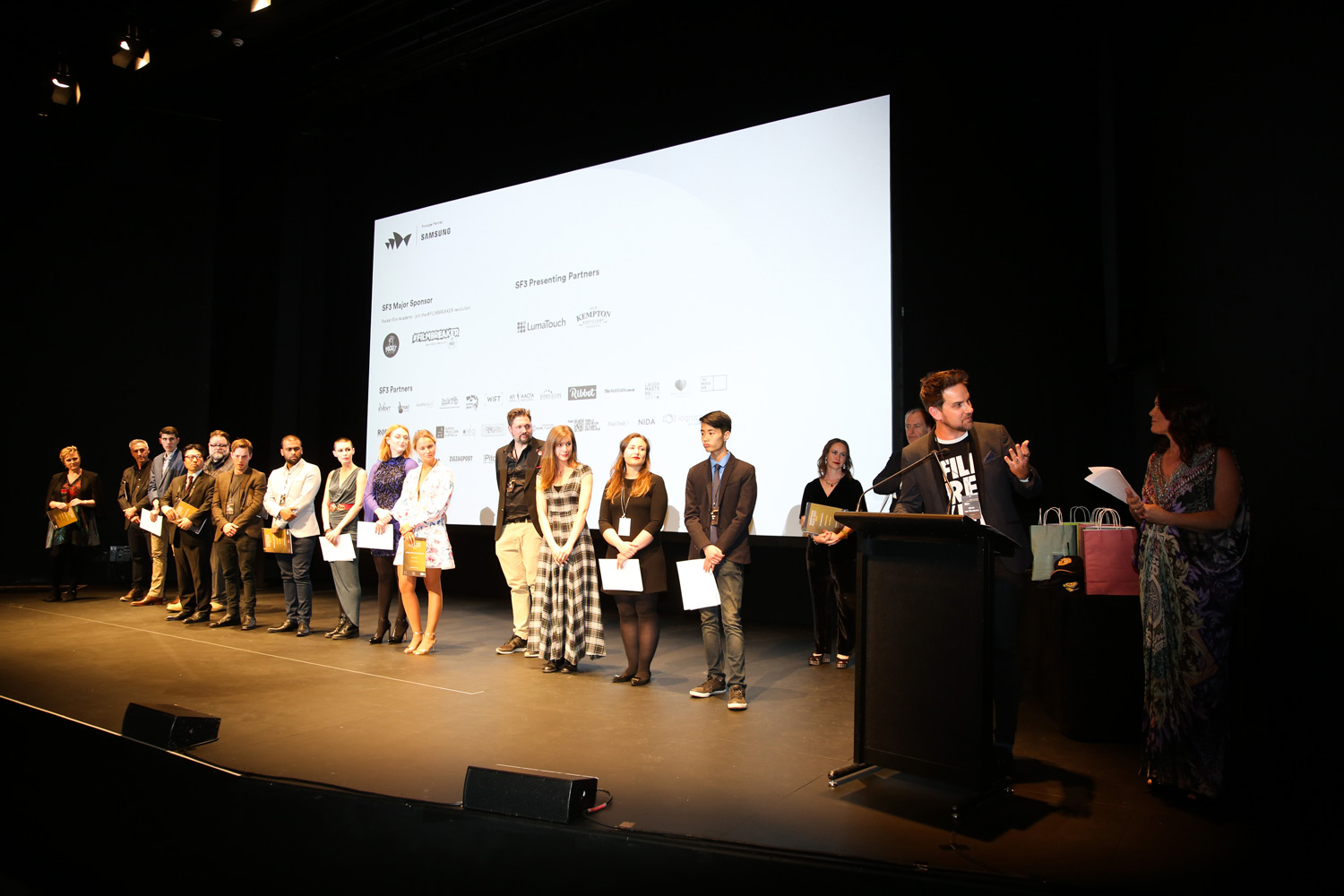 We are passionate about supporting filmmakers and helping get an audience for your films and we are here on every step of your filmmaking journey to support you and your film. Just reach out to us anytime. We are always happy to offer advice, guidance, feedback or connections.
In 2019, for the very first time, we introduced the SF3 Best Feature Film Category. It was a great success and over the past three years we have 40 Feature Film entries! Do you have a feature film you would like to screen at SF3? Or a short that you think we will love? We want to see it. Please head to Film Freeway and enter now or contact us at sf3@sf3.com.au as we are on the hunt for the best smartphone features, short films and VR/360 vids in the world right now.
We also partner with some amazing smartphone film festivals around the world, and all SF3 films are considered for screening at these festivals, providing yet another opportunity to have your film screened internationally. Each year our finalist films are shared with various other festivals and we are always looking to help you screen your films at events the world over.
Showcasing the best 360 and VR films from around the world, SF360 is back. We will select up to 4 finalist films/videos to screen at SF3 and the Best SF360 Film Award will be awarded at our Gala Finals. Check out our SF360 tab to learn more.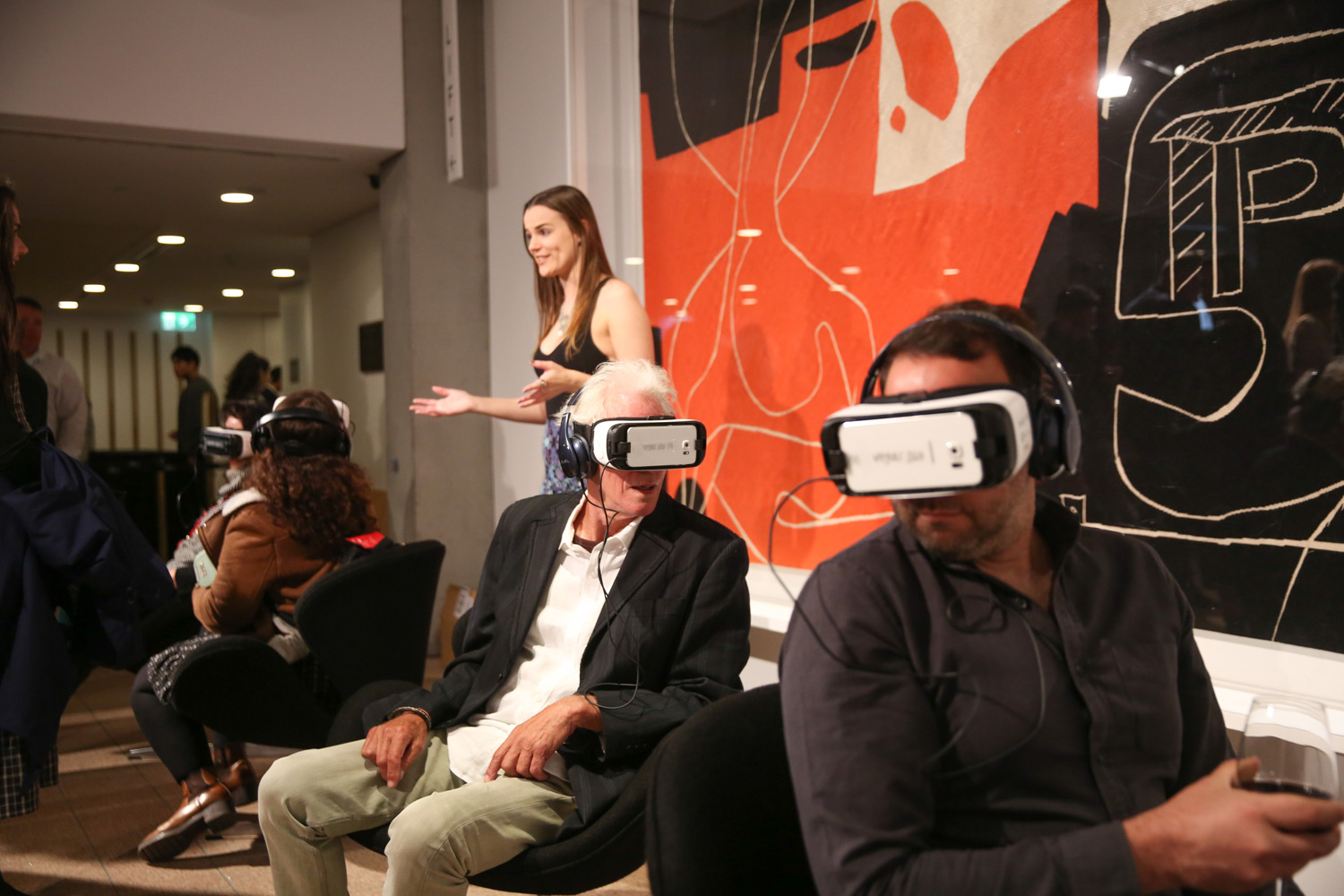 SF3 Kids
If you are 16 years and under and have a smartphone, then the time to make a film is now!
Our SF3 Kids Finals is a wonderful red-carpet event. This is an exciting showcase of the best smartphone films from around the world, all made by filmmakers 16 years and under (at the time of filming) and the screening features a photographer, photo wall, videographer and awards presentation with the filmmakers and industry judging panel and a masterclass. Exact dates for 2023 are TBC but will be held November.
To enter SF3 Kids you must be 16 or younger at the time of filming, your film must be shot entirely on a smartphone or tablet and be 10 minutes or less, the rest again, is up to you! And we accept entries from kids and teens the world over.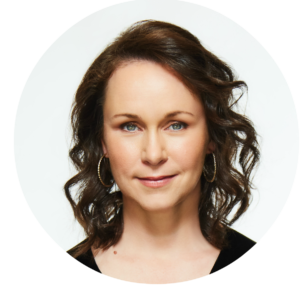 Angela Blake
Co-Founder & Director
Read Bio
Angela is a Sydney girl who grew up dancing, singing and acting from the age of four. The last few years have seen her working as an actor primarliy in film and TV. Credits include the recurring role of the Duty Nurse on Season 6 of Channel 7 and Foxtel's, A Place To Call Home, Love Child Season 1, Top of the Lake Season 2, From All Sides and Deadly Women Season's 9 & 10.
She has worked as a performer on stages all over the world for companies including Princess Cruise Lines, M.E.I., The Entertainment Store and many others. She graduated from The New York Film Academy's Acting for Screen Program in LA and went on to shoot countless shorts and web-series, many touring the festival circuit. She has also worked extensively in theatre and her credits include: The Vagina Monologues, The Silence Came, Love Game, Surprises, The Odyssey, The Crucible, The Silence Came, Popesical-The Musical and the Off-Broadway Production of Sex, Relationships and Sometimes Love in NY.
As a director, Angela's first play was Eating Out, which she also co-wrote and produced in LA. Since then she has won the Wildcards and Audience Favourite Award for the short play Weeing on a Stick at the 2012 Short and Sweet Festival. She worked with writer, Adele Shelley to turn this into a film. In 2015 she directed her very first Shakespeare, Romeo and Juliet, for Sydney Classic Theatre Company and she was also Assistant Director for immersive theatre company, Mongrel Mouth's The Age of Entitlement and co-wrote and acted in Like Me, which played in The Rocks. As an actor she has also shot ads for Elgas, Keystart, Queensland Bananas and Verizon Wireless.
Angela also has her Bachelor's Degree in Communications and Journalism  from QUT and she has her Master's in Creative Writing from UTS. She is a published author and her essay, Her Name, is in the 2022 UTS Writer's Anthology and she has had many micro-fiction published by Spineless Wonders. She is currently writing her second feature film plus a stack of shorts she plans to shoot on her iPhone! In 2016, her 1 minute iPhone film, The Circle Game, was a finalist in the Mobile Film Festival in Paris, the Miniature Film Festival in Vancouver and the Flash Film Festival in Berlin, plus it just won Best SmartPhone Film at the Buddha International Film Festival in India. Since then she has had films screened at festivals the world over including the Dublin Smartphone Film Festival, MINA and the Splendid Vision Film Festival. 
She Co-Founded SF3  in 2015 and over the past 9 years has spear-headed their education program. 
Check out her website.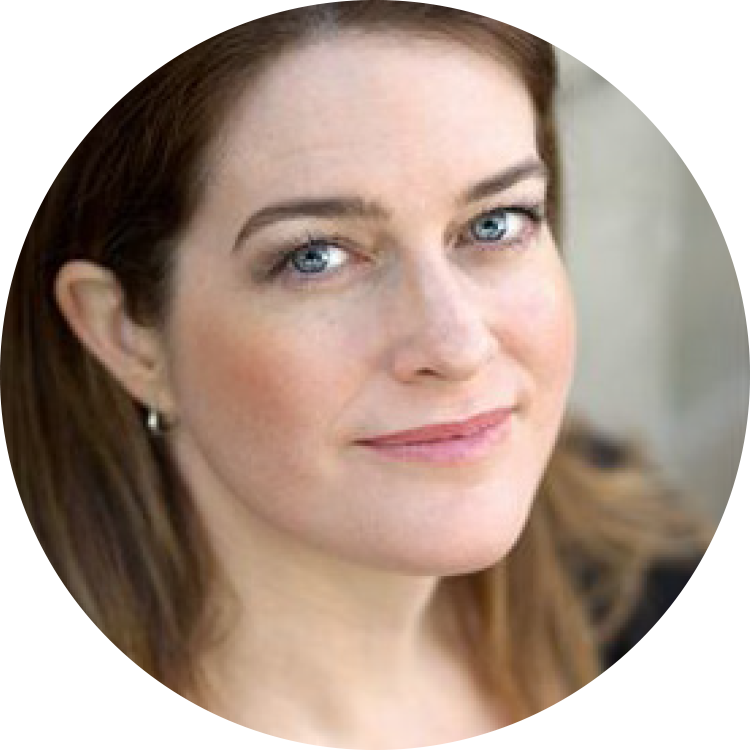 Read Bio
Ali spent her childhood in Hobart performing as an actress, dancer and singer, touring New Zealand and Japan and around Australia with the Australian Rosny Children's Choir. While still in Hobart, she performed in a number of productions with the Gilbert and Sullivan Society, Theatre Now Youth Theatre Company and Playback Theatre Company.
After moving to Sydney, Ali performed in several plays with ATYP, including The Hour We Knew Nothing of Each Other, directed by Michael Gow for the Sydney Theatre Festival. She studied acting at The Actors Centre before turning her focus to working in radio as an announcer and news presenter on stations around Australia and overseas. She later made a return to theatre, starring in WAGS – Wives and Girlfriends at the Adelaide Fringe and Melbourne Comedy Festivals.
Ali has also since appeared in the award winning Short and Sweet play, Weeing on a Stick, which has now been made into a short film. She has also finished shooting the short film Jimbra. Ali has recently performed in the two Mongrel Mouth productions of The Age of Entitlement and LikeMe.
Ali has also worked as a producer with Sunrise on Channel 7 and now keeps herself busy producing and presenting for ABC NewsRadio.
Read Bio
Sirmai Arts Marketing director Geoff Sirmai is a communications expert with 25 years' experience – plus a 'hands-on' professional theatre and music background which makes him uniquely qualified to get the best result for clients' events.
 Geoff's journalistic experience and profile is among the highest in the country, with some 5000 radio and 500 television appearances under his belt as broadcaster, radio presenter, television reporter and spokesperson. A former reporter on ABC-TV Investigators, senior producer in news and current affairs for the Seven Network and ABC Radio presenter, he appeared more than 100 times on the Channel 9 Today show and wrote a long-running Your Rights column in the Sunday Telegraph and other publications. He is the author of the entertaining best-seller, The Confident Consumer (Allen & Unwin) and holds a BA (Hons) degree in English and Music and an MA (Hons) in Australian Drama from Sydney University.
And as an actor, musician and entertainer, he also knows what it's like behind the footlights – as well as the rigours of writing, producing and directing theatre. From his work with Australia's iconic Renaissance Players early music group, to decades of 'straight' theatre, musical comedy, film/TV roles and corporate entertainment with Comic Roasts, Geoff has hundreds of stage and screen credits to his name.
In the world of arts publicity, Geoff's contacts throughout the media are second-to-none.
Former media manager and spokesperson for the Australian Consumers' Association (Choice Magazine) and Public Affairs Director for the NSW Health Department, Geoff established Watchdog Communications in 1999, consulting widely to government, arts, community and corporate clients.
Since establishing Sirmai Arts Marketing, Geoff and his associates have earned a reputation for elegant, economical and effective publicity on behalf of clients – always based on thoughtful strategy, not whim.
Kenney Ogilvie
Graphic Designer
Support SF3
We are currently seeking fun and innovative brands to join us for the next festival and beyond.
Let's
chat
Get in touch through our form or email us at sf3@sf3.com.au and we'll get back to you as soon as possible.